Bowen, 72, won an award for courage. (Photo: washingtonexaminer.com)
I try to read the Washington Post sports section as often as I can. This morning, I'm glad I did. For those of you that did not pick up and read the sports section this morning, you missed two excellent articles written by Mike Wise and Barry Svrluga.
The article written by Mike Wise looked into the scandal that is tight end Fred Davis and offensive tackle Trent Williams being suspended for the remainder of the season by violating the leagues drug policy. Williams and Davis were found to be using marijuana on a regular basis. Wise wrote about how immature and irresponsible the players on the team have become.
Barry Svrluga wrote about a different player, on the same team, with a totally different outlook on life. In the past six months, defensive end Stephen Bowen has lost a son and a mother-in-law...and has started every game this season. He keeps his personal life personal and does not let it effect his professional life. Yesterday, Bowen won a league wide courage award that is given to a member of each team and is voted on by the players.
The thing that struck me the most after reading these two articles, is how polar opposite the locker room at Redskins Park is. On one side, you have the hard working, level headed type of player you want in your locker room. On the other side, you find the exact type of loud mouth, selfish player that you strive to get rid of. The problem for the Redskins is "Selfish vs Selfless" players in the locker room.

Williams, above, was suspended for the season.
(Photo: profootballzone.com)
It's no wonder why this team is terrible this year. Hardly any players are focused on playing the game of football. The problem with the Redskins is not a lack of talent, although it couldn't hurt to have a little more, but, a lack of focus.
Soon the Redskins will start to lose their veteran players, such as London Fletcher, that do contribute and help the team on Sundays. They simply would not want to play with such a childish team. Why would London Fletcher, the Redskins best player and leader, want to return to this team next season? He's 36! He wants to win a Super Bowl and he will not win one if he plays with these children.
It is sad to see such a talent filled locker room go to waste due to a little selfishness and immaturity. The way the trend goes, Mike Shanahan has one more year to turn this club around. Right now, they are on pace to finish worse than their dismal 6-10 2010 season.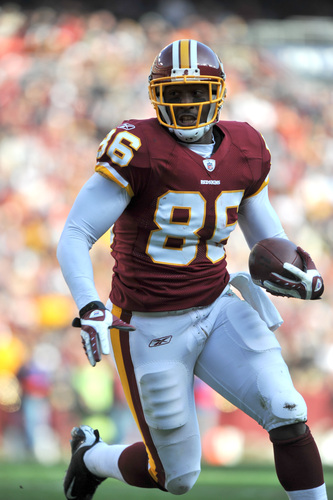 Davis, 86, was suspended for the season.
(Photo: bleacherrport.net)
The solution to this problem is to cut away the fat; the selfish players. Fred Davis and Trent Williams, while excellent players and crucial to the offense, have to go. You can't keep players that are more concerned with what they are doing after practice. Keep and re-sign players such as Stephen Bowen to long term contracts (did you know that Bowen has started every game this season?).
The Redskins franchise has become a franchise of immaturity and that will not get better over one off-season. While getting rid of Albert Haynesworth and Donovan McNabb got rid of negative vibes, the Redskins have gone right back to where they were when they had them.
The Redskins will not make the playoffs next season, the season after, and probably the season after that (if they could prove me wrong that would be great). But, until the immature mature and the selfish become selfless, the Redskins will forever be the doormat of the NFL.