Yesterday, the Redskins had a few players step up and do a little extra to help the team to a 23-10 thrashing of the New York Giants. No, this doesn't include Roy Helu Jr, Rex Grossman, or Santana Moss. This is a list of players that we don't particularly hear about and one player you may have never heard of at all.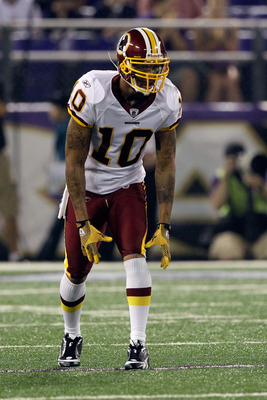 Game Ball #1: WR Jabar Gaffney
Yesterday, Gaffney played one of his best games of the season. Gaffney was all over the field making key blocks on running plays and making spectacular catches on third downs to keep drives alive. While he did not catch a touchdown, he was the teams leading receiver with 6 receptions for 85 yards. Gaffney has had a quietly spectacular season for the Redskins. He has totaled 58 receptions for 842 yards and 4 touchdowns. If there was ever an offense player for the Redskins that should have a statement for the Pro Bowl, it should be Gaffney.
Game Ball #2: CB Josh Wilson
Josh Wilson had a key interception early in the fourth quarter. The Gaints were driving down the field and cutting through the Redskins defense like a hot knife through butter. Eli Manning threw a deep pass to the back corner of the endzone and Josh Wilson went up and made an incredible interception and then toe tapped the endzone to complete the catch. That play ended the Giants scoring threat and all but ended their hopes of winning the game. To go along with that key interception. Wilson tallied 4 solo tackles and 3 pass deflections. One of his pass deflections came against Hakeem Nicks and it seemingly broke the Giants rhythm on offense in the fourth quarter.
Game Ball #3: LT Willie Smith
Yesterday, Willie Smith got his first official start in a Redskins uniform. The undrafted rookie free agent out of East Carolina University took the opportunity and made the most of it. He had the always difficult task of defending Rex Grossman's blind side. The 6'6" tackle played a wonderful game for the Redskins. As a unit, the Redskins offensive line gave up just one sack to a Giants pass rush that has been deadly all season long. Smith also opened up the hole for fullback Darrel Young to plow into the endzone and score the teams second touchdown. If I were Trent Williams, I would be worried about my job right now.
So there you have it! Three players that played exceptionally better than they have played all season long. Gaffney has been a staple for the Redskin offense but Willie Smith proved that he deserves a spot on this team. Josh Wilson was clutch and showed that he has soft hands in the back of the endzone.
Photos from top to bottom: Jabar Gaffney lines up to run a play (Photo: bleacherreport.com). Josh Wilson celebrates his fourth quarter interception (Photo: yahoo!sports.com). Willie Smiths Redskins profile picture (Photo: Redskins.com).