<>
>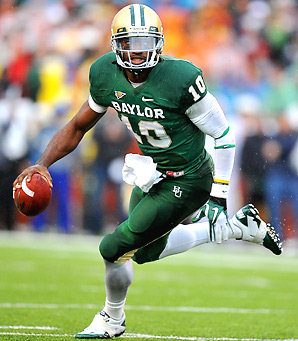 <>
>
(Photo: koehlerlaw.net)
As the April NFL draft approaches, this is the time of year when sports writers and bloggers alike provide their insight and analysis on nearly each and every player entering the draft. While I am not going to be breaking down every single player in the draft, I will be highlighting a few players from each position worth noting.
Today, we will first look at the quarterbacks. Once we get outside of the first round, there really isn't much depth at that position.
Andrew Luck (Stanford)
The 2011 Heisman finalist had quite the senior year for the Cardinal. He had a completion percentage of 71 percent and threw for just over 3,500 yards. He totaled 37 touchdowns to just 10 interceptions.
When looking at him on film, the first thing that I notice is his eye level. Many college quarterbacks have a habit of taking their eyes away from whats down field when the pocket breaks down. Luck always keeps his eyes down field when the pressure is on. He has excellent mobility and shows great speed in the open field. He's got an absolute cannon for an arm and rarely misses on the throw. His ability to throw on the run is incredible, as well. Luck is an all-around great quarterback.
One thing that I would like to see him improve on is decision making. While it may be nearly flawless, Luck has thrown into double and triple coverage before and that will be an interception every time in the NFL.
Robert Griffin III (Baylor)
The 2011 Heisman winner had an incredible junior year for the Bears. Griffin finished the season with 4,293 yards passing with 37 touchdowns and just six interceptions.
When looking at him on film, it is quite obvious that he may be the number one rated "athlete" in the NFL Draft this year. He is mobile, agile, and knows when the pocket is breaking down. An underrated skill that he possesses is being able to sell the play action fake. A number of times he has frozen the linebackers and safeties and then threw it over the top for a big play.
Something that I would like to see RG3 improve on is knowing when to run and when to pass. If he goes to the Redskins, he will have to become a pass first quarterback. That means, when the pocket breaks down he can't just take off running.
Ryan Tannehill (Texas A&M)
Last season, Ryan Tannehill totaled just over 3,700 yards passing for the Aggies. He threw 29 touchdowns and 15 interceptions. He also rushed for four touchdowns.
Before watching tape on Tannehill, I was a little skeptical as to why experts held him in such high regard. After watching film, I understand why. In terms of being a pure quarterback, Tannehill is second only to Andrew Luck in this years draft. Tannehill can throw on the run and will buy time with his feet. He gives is receivers a lot of time to get open before he decides to scramble for yards. He has an eye for the open receiver, as well.
One thing I hope that Tannehill improves on is his ball security. He threw 15 interceptions this past season. Better decision making is something that he should focus on in the fall.
Luck, Griffin III, and Tannehill are easily the best three quarterbacks in this years draft. While I think that Andrew Luck will go first overall to the Colts, the Redskins have quite the decision at number two. Both quarterbacks will be productive, but, I think that RG3 is more versatile and will allow the Shanahans to get creative. Tannehill will either go to the Browns, Jaguars, or Dolphins.