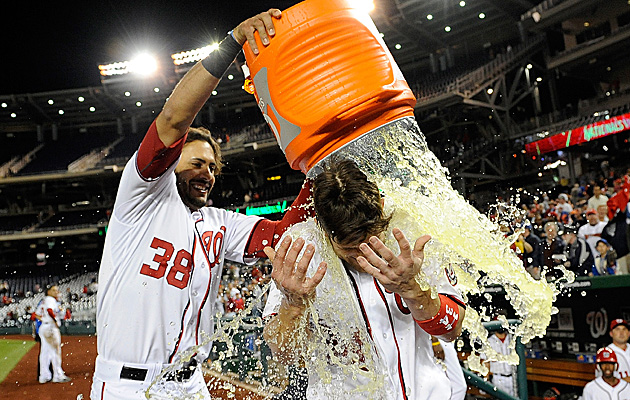 Michael Morse, 38, gives Bryce Harper a Gatorade bath following his walk-off single. (Photo: cbsimg.net)
First career major league at bat: check. First career major league hit: check. First career major league RBI: check. First career major league home run: check. First career major league walk-off: check. First career All-Star game:.....
Ever since Bryce Harper entered the major leagues back in April, he has been one of the Nationals most electric players. His love for the game has been apparent since he first hit the on-deck circle in L.A.
His constant effort has been contagious throughout the Nationals clubhouse. For him, a should be ground-out turns into an infield single. A bloop single into left can easily become a bloop double.
When Harper leaves the batters box after making contact, he's already thinking about rounding first and heading for second. He's running so fast that usually his helmet is long behind him by the time he gets to first base. He plays with the kind of enthusiasm that has been long forgotten in professional sports.
His play in the outfield has been outstanding. Just because a batter hit a flyout to the warning track with a man on third does not mean that he hit an RBI sac fly. Harper's got an absolute cannon and when he throws, he uses his whole body to put maximum velocity on the ball.
The bloop single is never a sure thing when hit into right field. Harper has flown in seemingly out of nowhere a number of times this season to catch a ball that would normally drop in front of any other outfielder.
Simply put, he makes the team better on the field.
How about off the field?
Long forgotten of the days of Harper's immature tweets. He no longer blows a kiss at the pitcher while rounding third base after hitting a home run. Quite the opposite, really. Harper doesn't take his time after hitting a home run. He hustles around the bases, scores the home run, and heads back to the dugout.
He doesn't make snide remarks to the media about a stupid question or brag after a game in which he made an incredible play. He acknowledges his performance, commends his team on the teams win, and continues on his merry way. Never will you catch him pointing the finger at another teammate following a loss. He's grown up off the field.
On the field, he's that kid you see playing little league ball that is having a great time simply because he's getting the chance to play baseball. He's the professional athlete role model that parents dream about (with the exception of not going to college).
Bryce Harper has pretty much done it all. First major league hit, RBI, home run, and now walk-off. He hustles through every play and is a stand-up guy off the field. He's got the make of a superstar role model for this league. He doesn't take steroids. He is a legitimate superstar in the world of professional sports.
Up to this point in his rookie year, he has done just about everything and he has proven that his attitude has improved dramatically.
For Bryce Harper, there's only one thing left on his rookie year check list. Come on Major League Baseball fans and voters, send the kid to the All-Star game.