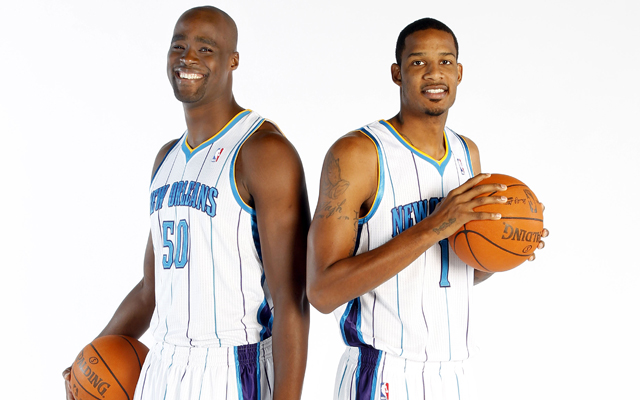 (Photo: cbsimg.net)
Yesterday, the Wizards made a trade with the New Orleans Hornets to acquire Emeka Okafor and Trevor Ariza for the 46th pick in the 2012 draft and Rashard Lewis.
In my opinion, the Wizards got a great deal with this trade.
They acquired two solid (not great) players in Okafor and Ariza and all they had to give up was a late draft pick and a player that didn't really make a difference last season.
This trade also makes a huge difference when you look at the draft picture.
A week ago, I wrote a post stating that the Wizards will likely select Thomas Robinson from Kansas or Andre Drummond from UConn with the third pick. Following this trade, however, I would like to make an adjustment to that prediction.
With acquisition of Okafor, the Wizards now have to starting low post men Okafor and Nene. The Wizards also filled their need for a small forward with acquiring Trevor Ariza. Now, all they need is a shooting guard to compliment John Wall.
That's where the draft comes into play...
The Wizards will now have the option to pick between two quality shooting guards: Harrison Barnes from UNC and Bradley Beal from Florida. In my post last week, I stated that Bradley Beal would be the best option for the Wizards if they were to take a shooting guard with the third pick...I still stand by that.
Beal is a great shooter off the screen and does well when he puts the ball on the floor. I think that he and John Wall will compliment each other very well. Also, since Beal was not the point guard through college, he will already be used to his role on the floor.
Trevor Ariza and Emeka Okafor were two great pickups by the Wizards. Ariza, an NBA champion back in 2009, has been bouncing around the league his entire career. Still, however, he manages to make a difference no matter what team he is on.
Okafor, the second overall selection in the 2004 NBA Draft, has been a solid player throughout his career, as well. In 2005, he was selected to the NBA All-Rookie First Team and was also the Rookie of the Year that year. Okafor can give the Wizards at least 12 points night in and night out.
I like the direction that Ernie Grunfeld and Co. are taking the Wizards. While they haven't made any major moves, they have still added some quality players to the roster.
When the season tips off, I wouldn't be surprised to see this starting line-up on the floor: John Wall, Bradley Beal, Trevor Ariza, Emeka Okafor, and Nene.