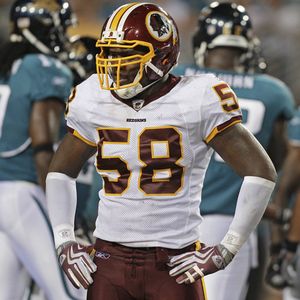 (Photo: espncdn.com)
Have you every had your dream job just taken away from you? You are more than qualified, have everything going your way, and all of a sudden everything is just wiped right out from under your feet? That's what happened to Robert Henson. This is his story.
Henson, a four year player for the TCU Horned Frogs, recorded 270 total tackles with 4 interceptions throughout his career at linebacker. His senior year, he was a First Team All-Mountain West Conference selection.
Henson then entered the NFL draft. He was a sixth round draft pick of the Washington Redskins in 2009. "I did feel the pressure to perform. It was stressful being in a new environment and told to make it happen as well as have your family's well being depending on your performance on the field," stated Henson when asked about being a sixth round draft pick.
After many sleepless nights and many hours studying his playbook, Henson got his chance to play during his rookie season. In 2009, he appeared in six games for the Redskins and recorded six tackles.
As the franchised then transitioned into the 2010 season, the front office got some new faces. The men that drafted Henson, GM Vinny Cerrato and head coach Jim Zorn, were replaced by new GM Bruce Allen and head coach Mike Shanahan. "Having the front office replaced was indeed a tough situation for me because the people that drafted me and helped me grow as a football player were suddenly gone," said Henson.
At this point, Henson only had one year under his belt. He went on to say that the veterans of the team were instrumental in helping him and his fellow new comers stay focused. "...[I] made it my mission to prove to the new staff I belonged," said Henson.
In week four of the preseason, the Redskins traveled to Arizona to take on the Cardinals. Henson suffered a major set-back when he sustained a knee injury during the game. On the plane ride back, Henson could not sleep. He needed to know his future.
"...I decided to sit down with Coach Shanahan and ask him what his plans were for me. That is when he told me I had nothing to worry about," said Henson.
On August 5th, 2011, almost a year later, Henson got the devastating news that he had been released from the organization. "I was disappointed because I felt I could have contributed heavily. I was about a week away from returning to the field and was excited about doing so. I cleaned out my locker, said thank you to the coaches for the opportunity, and found my friends and told them good bye," said Henson.
Henson then drove back to the hotel to see his wife, Sarah. After breaking the news, they promptly gathered their belongings and headed for home.
"The following few months were stressful because I knew the longer I went without a team, the harder it would be to get back in the NFL," said Henson when asked about the months following his release.
In the weeks following his release, there were a number of teams contacting him about his services. "...they all felt I needed to get healthier before we enter into agreement so that has been my goal," said Henson. He never got the chance to sign a contract.
Now-a-days, Henson gets to spend more time with his family and that is something that is obviously important to him. He even stated that "As long as I am a part of TEAM HENSON I am fine."
Henson works out regularly to keep himself in top physical condition for when that call does come again.
No matter what, he always has a positive out look on life. "I think it is important for guys (Athletes) to realize the game is unpredictable and nothing is promised, but with God and a lot of hard work anything is possible!"