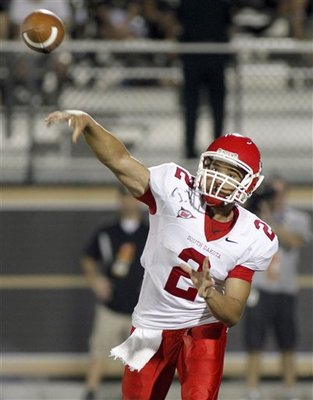 (Photo: bleacherreport.net)
Today, South Dakota quarterback Dante Warren is trying out for the CFL franchise Montreal Alouettes in Orlando, Florida.
You may remember Warren from an earlier article that ran here on the blog right after his combine in Akron, Ohio. He was one of the four South Dakota players. His teammate, RJ Polley, drove to the university from his North Dakota home to pick up two other teammates and then off to Akron so they could all be together at the combine.
Not long after the combine, Warren got a call from the Gladiators all the way over in Basel, Switzerland to come and play for them. However, Warren felt it best if he stayed here instead of going overseas. The main reason was because Warren wanted to play against the best possible competition. "The CFL has better opportunities financially as well as the difficulty of competition," said Warren.
There will certainly be a number of athletes at the tryout since it is an open tryout. They will be tested in the 40 yard dash, Pro Agility, and 3-cone drill. Afterwards, they will take to the field to showcase their abilities in position drills and 1-on-1 drills.
To prepare, Warren said that he has been throwing 4-5 times a week and for 2-3 hours at a time. "Monday through Friday I will lift and run to stay in shape and stay strong," said Warren.
Warren has all of the necessary tools to be selected and signed by the Alouettes. He has great awareness, great feet, and an accurate and strong arm. Expect him to be one of the top players at the tryout in Orlando.
"I am very confident that I will do my best at the tryout. I am confident that I will impress many of the Montreal coaches and front office," said Warren.