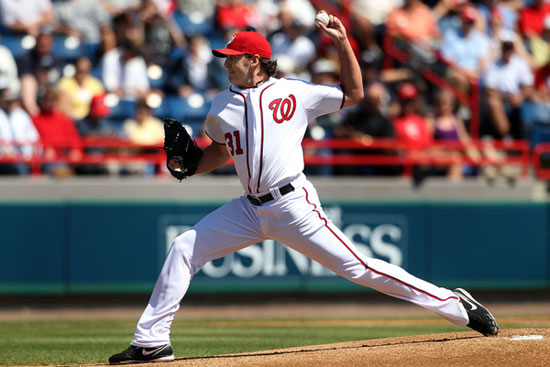 (Photo: thebestbaseballblog.com)
Yesterday, the Nationals made the final, and most surprising, move to get down to the 25-man Opening Day roster.
The Nationals had six starting pitchers at the beginning of the day and needed to send one down to the minors in order to have their five locked in. The choice came down to John Lannan and Ross Detwiler. Just last week, Nationals manager Davey Johnson had claimed that Lannan "was [his] guy."
That all changed. The Nationals have since sent Lannan down to AAA Syracuse in favor of Detwiler.
Throughout the spring, Detwiler has out-performed Lannan. He posted a 3.06 ERA and Lannan posted a less than impressive 5.14 ERA.
As stated in an article on the Nationals website, Lannan also had a minor league option left on his contract. Knowing that, the choice was easy for Johnson and general manager Mike Rizzo.
The final spot in the rotation was opened up once Chien-Ming Wang had to be placed on the 15-day disabled list due to a hamstring injury.
Two years ago, Lannan was known as the Nationals ace pitcher and you could find him on the cover of the gameday program that they hand out at the gates. Now-a-days, you commonly find him as one of the free baseball cards that are given out in the centerfold of the program.
Earlier this spring the Nationals put Lannan on the trade block in hopes of getting a centerfielder. The asking price was too high, however, so the market for Lannan was fairly small and the Nationals never reached a deal with anyone.
The Nationals recent off-season signings really didn't help his cause, either. The returns of Stephen Strasburg and Chien-Ming Wang and the signings of Gio Gonzalez and Edwin Jackson have bumped Lannan down to the low-man on the rotation.
Lannan is still available for trade. The Nationals are most likely looking for the next great centerfielder and I wouldn't be surprised if he was involved in a trade to get one.