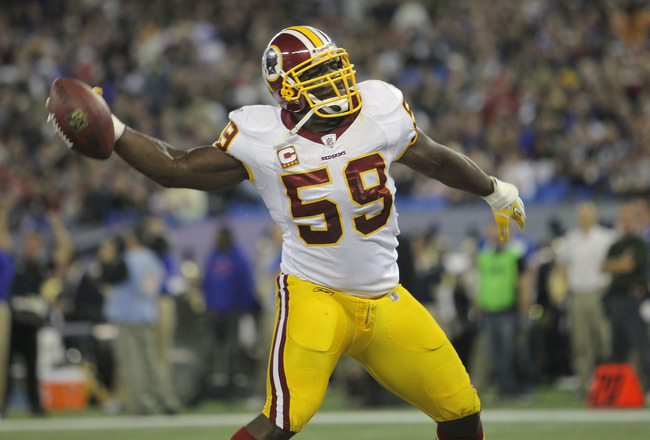 London Fletcher, above, tweeted that he is returning to the Redskins. (Photo: bleacherreport.net)
London Fletcher tweeted yesterday, and CSN Washington later confirmed, that he has been resigned by the Washington Redskins.
As stated by Rich Tandler, some reports have stated that they deal is for two years. The dollar value of the deal has not been disclosed. Most likely, Fletcher will now retire as a Redskin.
The search for Fletcher's replacement and the contract discussions between Fletcher and the Redskins was kept as quiet as possible. The first we heard of the two sides even working on a deal was when Fletcher tweeted that he had been resigned yesterday.
2011 was the 14 year veteran's best season yet. Fletcher finished with 166 tackles, 3 forced fumbles, and 2 interceptions.
The Redskins also resigned Tanard Jackson. This report came via a tweet from the team with a picture of Jackson signing his contract:
New #Redskins S Tanard Jackson signs his contract this morning at Redskins Park: yfrog.com/nuthakxj
Jackson, who signed a one year deal, was released by the Buccaneers after he failed a physical. He appeared in just ten games for the Bucs as he had an injured shoulder. This past off-season, he had surgery to repair a torn rotator cuff.
Jackson, a Silver Spring, Maryland native, has 229 tackles throughout his four year career. He has 10 interceptions with 27 pass deflections.
The signing of Tanard Jackson is a risky one. I, personally, don't get it. He failed a physical with the Bucs. What on earth on makes Dan Snyder, Bruce Allen, and Mike Shanahan think that he will pass one in Washington? Jackson is another one of those "quick fixes" that has no long-term upside.
He has never done anything in the NFL that has "wowed" anybody. He's just an "average Joe" safety that takes up space on the field. I guess we'll have to wait till next year before we finally get a quality player at the safety position.