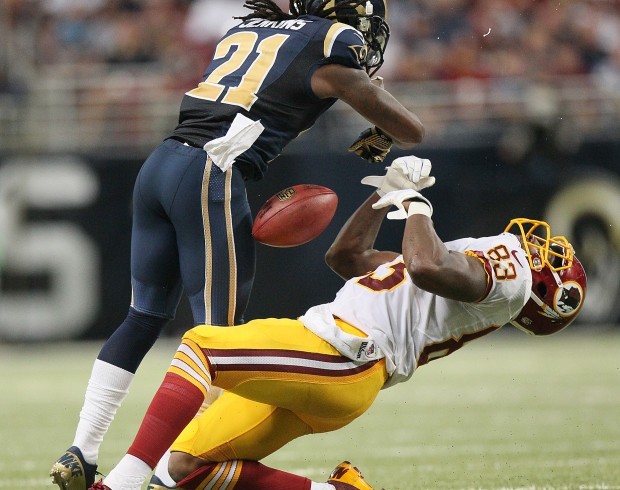 It wouldn't surprise me if Davis' concussion came on this hit in the second half. (Photo: townnews.com)
The Redskins have already lost
Brian Orakpo and Adam Carriker
for the season, but now, as Mike Shanahan told reporters yesterday, tight end Fred Davis suffered a concussion sometime during the game against the Rams.
It was not made known when Davis acquired his concussion. It could have been as early as the first quarter and trainers let him play anyways.
No matter when the injury occured, Davis will not be allowed to play until he passes the NFL's concussion test. Meaning, he could be out for this weekends game against the Bengals.
Davis hasn't had a huge impact yet this season. After last years team leading (until he got suspended for the last five games) receiving performance, many expected him be a huge factor and target this season for Robert Griffin III. Instead, Davis has just four receptions for 52 yards and no touchdowns.
If Davis can't play this weekend, he would end up the third starter, joing Orakpo and Carriker, not to play against the Bengals. Niles Paul and Logan Paulson will take over the reps at the tight end position if Davis can not play this weekend.
Follow the blog on Twitter @SkinnyOnSports and on Facebook by searching The Skinny On Sports!!
Source: CSN Washington