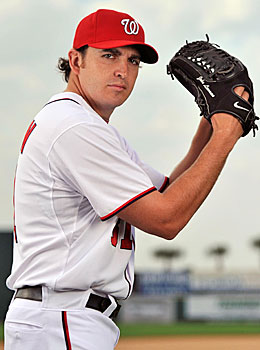 Lannan, above, will win games for the Nats in the post-season. (Photo: cbsimg.net)
Do you believe me yet? I've been saying the same thing all summer long: the Nationals can win the World Series without Stephen Strasburg. Hopefully, after 5.2 innings of baseball last night, you've been convinced.
John Lannan, while he may not be as good as Stephen Strasburg, will still get the job done. At the end of the day, they both do the same thing: win. In three starts this season, all against NL East opponents, Lannan is 3-0 with 2.41 ERA, 1.18 WHIP, and nine strikeouts. I hate to break it to yo nay-sayers, but Lannan's numbers are just as good as, if not better than, Strasburg's.
In his latest outing, Lannan went 5.2 innings giving up just five hits and one zero runs. He walked one batter and struckout two. Simply put, Lannan was lights out on the mound.
He's not a strikeout hitter. Lannan simply gets players out. In each of his three starts, he's forced at least 10 ground outs and at least 6 fly outs. In his best strikeout outing, he K'd four batters. While he may not be the power strikeout pitcher like Strasburg, he gets outs any way that he can and doesn't use very many pitches doing it. Not throwing a lot of pitches will allow him to go deep into ball games.
Lannan has certainly come a long way since the end of spring training. At the end of preseason, Lannan was calling for a trade because he was unhappy about being demoted to Triple A in favor of Ross Detwiler. Lannan carried that negative attitude into the beginning of the season and got roughed up in his first few starts for the Chiefs.
Now, however, Lannan has a whole new swagger. His game has picked up and he looks like the John Lannan of old when he was the opening day starter in 2009 and 2010. His stuff is solid and, like I said above, is simply getting people out.
If your still worried about whether or not the Nationals can make it to the World Series without Strasburg, your not a true Nats fan (that's right...I said it!!). There is so much more to this team than Strasburg. They can score runs at will and they have four, well...five, other starters that have won at least, or are one less, than ten games (Detwiler and Edwin Jackson have won nine games each).
On offense, the Nationals rank in the top 11 in the MLB in runs (647, 9th), batting average (.262, 10th), on base percentage (.323, 11th), and slugging percentage (.428, 7th). Six Nationals (Adam LaRoche, Ryan Zimmerman, Ian Desmond, Bryce Harper, Danny Espinosa, and Michael Morse) have all hit at least ten home runs. Tyler Moore is close behind with nine home runs. Those same six have hit at least 49 RBI this season with LaRoche leading the way with 92.
And you know what else? This team is just now starting to peak offensively. In the beginning of the season, runs were hard to come by for the Nationals at times. Now, they can't seem to stop scoring runs and are seemingly scoring at will.
For the rotation, Gio Gonzalez is currently a top candidate for the Cy Young (and you thought Strasburg was the best pitcher). He's got 19 wins and a 2.93 ERA. Jordan Zimmermann has 10 wins and a WHIP of 1.17. Ross Detwiler and Edwin Jackson both have ERAs under four and WHIPs under 1.30. That's outstanding.
The Nationals rotation are second to just Cincinnati and Tampa Bay in ERA, quality starts, strikeouts and batting average. Combine all that with the bullpen and one of the MLBs best closers in Tyler Clippard and you've got a World Series caliber pitching staff.
So if your still saying/thinking that the Nationals can't go to the World Series without Stephen Strasburg...I've got one questions for you:
Where's your #NATITUDE?
Follow the blog on Twitter @SkinnyOnSports and on Facebook by searching The Skinny On Sports!!