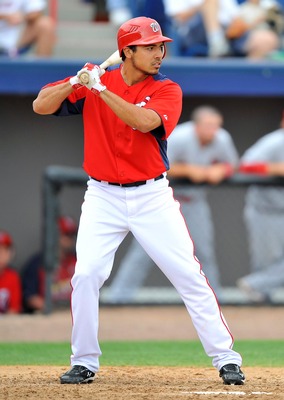 Rendon, above, was a first round pick of the Nats in 2011. (Photo: bleacherreport.net)
A few things happened yesterday that you should know about. Whether it was player movement, development, or rehab, it happened and you need to know! Luckily, you got me. :)
What an interesting day for Nationals prospect Anthony Rendon. Yesterday morning, Rendon was called up from Single A Potomac to Double A Harrisburg. Rendon had just 22 starts in Potomac after finishing his rehab of his broken ankle. The Nationals liked what they saw and promoted him to Harrisburg.
By looking at his numbers, the decision to promote him was easy. He batted .333 with an on base percentage of .438 and a slugging percentage of .630 throughout 32 at bats in Potomac.
One could say that Rendon being moved through the minor leagues so quickly could mean that the Nationals might call him up. Well....
Last night Davey Johnson told reporters that Rendon could be a candidate to be called up in September. What makes it more likely is the fact that Rendon is on the Nationals 40 man roster (25 players suit up, 40 on the MLB roster all together). In other words, the Nationals would simply have to sit one member of their team and have Rendon step in. It's pretty simple thing to do.
If/When Rendon gets called up, I wouldn't expect him to see much playing time. He plays third base. Ryan Zimmerman has that locked up. But, Rendon could play a game or two just before the postseason if the Nationals feel comfortable. I'm sure Ryan would appreciate a night off here and there.
Adam Berry tweeted on Twitter that Nationals short stop Ian Desmond could return to the line-up this Friday. Last we saw, Ian Desmond was headed for the DL with a torn oblique muscle. Desmond is moving way ahead of schedule as he wasn't expected to return until late August. He went through a full workout Monday and Tuesday and is expected to do it again today. Another solid workout and we could see him Friday.
Michael Morse missed yesterday's game due to his thumb. He said that he jammed it on Monday, but it seems like no big deal. Expect to be in the line-up today.
Another little bit that you should know about. One of the last remaining players from the days of the Montreal Expos, catcher Devin Ivany, was released from the organization yesterday. He batted a weak .243 this season in the minors.
As the Nationals head for the home stretch, it seems all the pieces are coming back together and fitting nicely. There is only one HUGE story line that remains, when will Stephen Strasburg be shut down? Tune in later to find out!
Follow the blog on Twitter @SkinnyOnSports and on Facebook by searching The Skinny On Sports!!
Source: Washington Post/Times