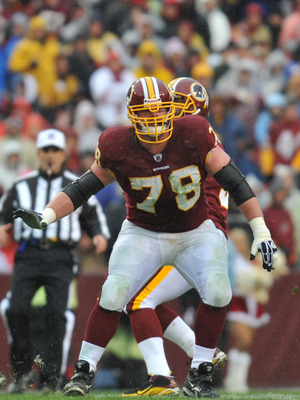 Lichtensteiger, above, tore his ACL in week 6. (Photo: bleacherreport.net)
Redskins gaurd Kory Lichtensteiger missed a majority of last season due to knee injury. After having surgery done to repair his knee and undergoing countless hours of rehab, many around Redskins Park believe that he will return to form.
Lichtensteiger, a fourth round draft pick in 2008, was supposed to be one of the teams top offensive linemen in 2011. He played for the Broncos for one season before he was waived and then picked up by the Vikings. The Vikings then waived him in after one season. He was signed by the Redskins in 2010.
If Lichtensteiger can prove that he has recovered fully from his ACL surgery, then that help would help secure the left side of the offensive line. He is set to start alongside last seasons biggest surprise: Willie Smith. Smith, an ECU grad, surprised everyone with his exceptional play at the left tackle spot. Many, including me, feel that Trent Williams should be worried about his left tackle position following last season.
If Lichtensteiger isn't well enough to get the job done, the Redskins will have Maurice Hurt ready to step in. Hurt took over the job at left gaurd when Lichtensteiger was hurt back last season.
The Redskins have a very young offensive line. If these guys could just get enough time together, they could gel into one of the best offensive lines in the NFL. However, injuries and suspensions have not allowed them the nessecary time together and therefore the offensive line has become one of the Redskins biggest weaknesses.
I don't think that there is a problem with the WHO the Redskins have on the offensive line. Once everyone is healthy and can gel together, the Redskins could have one of the best front fives in the NFL.
Follow the blog on Twitter @SkinnyOnSports and on Facebook "The Skinny On Sports"!!
Source: rotoworld.com